Agitations: Indigenous People of Nigeria Condemns Arrest of Sunday Igboho, Detention Of Nnamdi Kanu…Demands Dialogue
The newly formed Indigenous People of Nigeria has condemned the recent arrest of Yoruba nation activist, Sunday igboho.
Convener of the group, Mazi Dickson Iroegbu in a press release described Igboho's arrest as a bad omen for Nigerians.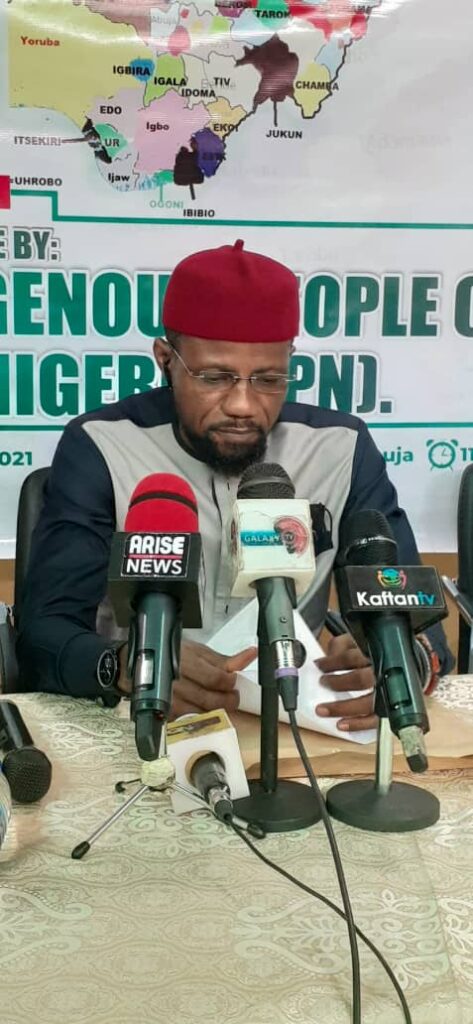 Read the full text below:
The Indigenous People of Nigeria view the arrest of Chief Sunday Adeyemo aka Sunday Igboho, one of the indigenous agitators in Nigeria, as a bad omen.
We all have to agree amongst ourselves that agitations escalating in Nigeria at the moment is due to the ineptitude and inability of the current administration to harmonise the common interests of the Indigenous Peoples of Nigeria.
We therefore urge the Federal Government to expressly commence the process required for dialogue with all ethnic nationalities of Nigeria.
We also demand that the government should ensure that ALL leaders of self-determination agitations, currently in detention, are not harmed. Rather they should be engaged by constructive dialogue, given fair hearing, as well as accorded all rights and privileges due them as Indigenous Nigerians in order to address the root causes of these agitations.
We urge that the Federal Government should expedite moves to end the menace of terrorism, banditry and every form of criminality in all parts of Nigeria.
We hold strongly that the detention of Mazi Nnamdi Kanu and Chief Sunday Igboho reveals that the government is aware of everything happening in Nigeria, including acts of terrorism, corruption and banditry, and possesses ability to bring the major players and their sponsors to book.
Once again, the Indigenous People demand that the government of President Muhammadu Buhari should immediately activate the process of dialogue with all Indigenous People of Nigeria.
Finally, we condemn all illegalities in the handlings of agitations by Indigenous Nigerians.
Signed:
Mazi Nnamdi Iroegbu
Convener – INDIGENOUS PEOPLE OF NIGERIA (IPN)